Care Guide - Cowhide Accessories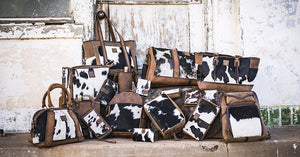 Leather is a natural product that will only get better with time. Learning how to clean and store your bag properly helps increase their lifespan. 
Please follow these simple care tips for your cowhide accessories.
Cleaning
Before cleaning your item, there are a few things you need to consider. Not all leather is the same and you shouldn't treat certain types of stains. Some stains can look worse after you have applied a product on it. Lastly, always perform a blot test before applying anything to the entire bag. If in doubt, check with a local cleaning professional to see if they're able to clean your bag.
If a spill gets on your cowhide bag, try to quickly soak up the products to avoid letting it sit into the hair and fibers. Use a damp cloth with just water, or a mild soap, to remove the rest of the stain as best you can. Rub the hide with the lay of the hair, not against. Going against the lay of the natural hairs may cause more damage than the spill and cause hairs to fall out.
Vacuuming may be necessary when too much dust and dirt has built up on a section of cowhide. You can use a small, bristled tip vacuum attachment to get the dirt off your bag before you wipe or brush out the hair. This will prevent excess dirt from staying on the bag when water is used to clean.
Conditioning
You can use a leather conditioner to help protect the leather after the bag has been cleaned. We recommend using a conditioner without any dye in it. Don't forget to do a blot test before applying the conditioner to the entire bag.
Natural Aging
Natural shedding and wear from the hair on hide is expected. Your cowhide sections of your bag will age different than the leather sections. To keep your hair on hide sections looking their best, try to avoid brushing them against rough surfaces (such as brick or rock walls, concrete, etc) and from crushing the side of the bag with hair on it. Do not fold or crease the bag, unnaturally.
Always dust and clean cowhide with the lay of the hair, not against. Going against will cause the hair to stick up in unnatural ways and even fall out.
Zipper Care
All of our apparel and accessories use top of the line zippers. Sometimes zippers can get dirty and need a little attention. Please follow these simple steps to help clean and lubricate the zipper.
First inspect the zipper for anything that might be blocking it.
Using warm water and a cloth, wipe the zipper to remove any substance that may be causing the zipper to get stuck.
If stiffness still occurs, try lubricating the zipper with vaseline, chapstick or a bar of soap. 
Apply a small amount to the zipper and then zip the zipper back and forth to help lubricate it. 
Storage
Enjoy your leather handbag for years to come by properly storing it when you're not using it. Please follow these tips to properly store your leather bag.
Don't hang it
Try to not hang your bag when you're not using it. Instead stand the bag upright on a shelf.
Keep it out of direct sunlight
Direct sunlight can cause the leather and fabrics to fade or discolor. Store the bag somewhere without direct sunlight and low humidity to avoid mold.
Maintaining shape
Stuff your handbags with towels or sweaters to help the bag maintain it's shape when you're not using it.
If you have any other questions, please contact us. Our customer service representatives will respond to your inquiry within 24 - 48 hours (Monday - Friday).
Hair on Hide Variety
Our bags and accessories are made of 100% genuine cowhide. We cannot guarantee patterns, colors and lengths of hair on each piece be the same as what is photographed. Each piece is unique to itself because every hide used to craft the piece will be different. Specific color requests cannot be accommodated.