Remembering Papa on Father's Day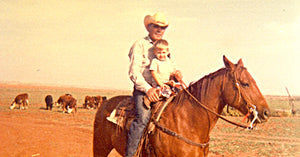 One of my biggest heroes growing up was my grandfather. To our family, granddad was "Papa". Most of us love John Wayne, the cowboy. Well papa was that cowboy in real life.
When I was young and out of school during the summers, I got to spend a lot of time with him on the ranch. I would ask him to tell me stories and he would tell me about some wild bull roping or doctoring a yearling with screwworms. He always had a story about a wild wreck they got into. That was great entertainment for me because the stories were true and my grandfather was larger than life.
Papa died two days before I qualified for my first NFR in 1995. That was very hard for me but even harder for my dad. My dad had been in the pasture with him since he was a little boy. They were best friends and so in tune with each other they would finish each other's sentences. They were like an extension of each other.
I was looking at photos of my grandfather yesterday and it brought back to me what a great man he was. He didn't try to be cool because he didn't have to try. He just was. He was soft spoken, but there was never any doubt he could make any situation right, if necessary. All his dealings were done by handshake.
My grandfather and our life on the ranch actually inspired STS Ranchwear. We are so proud to share the legacy of the ranch through the brand. Our mission statement/motto emulates my papa's life. 
The biggest life lesson I learned from my grandfather is to be real and true to yourself. Be who you are and proud of that. That's what I want to teach my children. They don't have to be cowboys, but whatever they choose to do, I want them to have those traits. That's what was passed down to me.