The Woman Behind the Handbags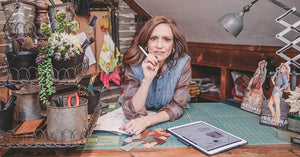 Tell me a little bit about you and Stran, and the beginnings of STS. What was your vision from the beginning and how has it played out? 
Most people know Stran and I from our professional rodeo careers. Stran qualified for the National Finals Rodeo 12 times and won a World Championshipship in the Tie Down Roping. I had a 14 year career with ESPN and ESPN2 commentating rodeo and horse racing. Stran and I were asked to consult for several large brands in the industry as western influencers. Through those experiences we learned so much about the industry.
STS Ranch was founded 4 generations ago and Stran's roping abilities were cultivated on the ranch. Roping is only one aspect of his cowboy and ranch knowledge. We had a vision of creating a lifestyle brand that would withstand the life of a cowboy. Our customers know this is a true lifestyle brand seeing our lives though 20 years in professional rodeo, our brand photography, and seeing our life on social media. We test it on the ranch, photograph it on the ranch, wear it on the ranch and in every other aspect of our life.
Being a major influence in STS, how did you find your niche and how is that meaningful to you? When did you realize this passion?
During our years of consulting for major western brands, we molded our vision for STS Ranchwear. We were so blessed to find a partner in Chad Fairchild at Carroll Original Wear who had the same vision and even more knowledge in the business.
I have always had a passion for handbags, and felt like there was a void to be filled in our industry. I wanted to create a fashionable bag that was made of quality high grain leathers, with inside functionality at an affordable price. We strive to highlight the strong beliefs and values that the western lifestyle were founded upon. That is where our passion lies.
What gives you the inspiration to go further than the basic brown leather bag, and why is that important to you?
Women are my inspiration. I believe in women. I love the diversity of our goals and accomplishments. We, as women, cannot be put in a box. That being said there are different needs that should be met in my handbag and outerwear line. Every bag from a small wristlet to a large travel tote, should functionally meet my customers' needs and look beautiful doing it.
Walk me through the design process. Are you and your team working on one or several designs at a time? At which parts do you interact with the process, and in what ways? Which part is most exciting for you?
The design process never stops for me. I am constantly thinking of ideas and looking for inspiration. I do, however because of other responsibilities within STS Ranchwear, try to isolate the detailed drawing and designing process to a specific time of the year. I used to hand draw all of my designs with pencil and paper. Now I use an iPad Pro to draw all of my designs. My factories require very detailed drawings, so I am a stickler for the details. From strap width to thread size, I try to include every measurement in my drawings. I have most bags we have ever created in my design loft to compare measurements and work off. I also field test most all of my bags. If I don't carry them for some amount of time, how will I know their strengths and weaknesses?
From vision to completion, how long does it take to have the final product? How do you feel when you see it for the first time? Do all of the designs make it to production? How do you decide what to name them?
From the vision to the bag hitting stores is about a one year process. I receive master samples from my drawings 3 to 4 months after I submit them. I'd like to say all of my visions in my drawings translate to amazing bags, but I do have some fails. But I believe that is how I learn. It is in those failures that I dig in and learn where I can improve. This goes deeper than handbags. This is a life lesson.
I would say about 70% of my designs make it to production. There is, however, no better feeling than physically seeing and holding a bag that I have designed. The only better feeling is seeing a customer carrying a bag. That still makes me giddy!
I actually spend more time finding a quote for the inside of the bag, than I do naming the bag. Upon the inception of the our handbag line, I was passionate about having a quote in every bag that would just be a little encouragement for the person carrying it.
How do you share your progress and passions throughout this process with family and friends? Do the designs reflect your lifestyle?
We do not separate family and business at STS Ranch. I heavily involve my family in every aspect of our business including design input, modeling, and carrying and field testing. I welcome family, friend, and customer input. They are my mood board and my lifeline. Our lifestyle and family is very multifaceted as I hope my handbag line is.
What kind of connection do you feel to the women who buy STS? How do you want your designs to reflect and impact their lifestyle?
From the inception of STS, my main goal was to create a handbag/jacket to fit women's needs. Every woman has different needs, but we all want functionality. When I am designing, I am thinking of the woman that would carry that bag and what her needs are. I imagine myself carrying the bag and what my needs would be. As I said earlier, women are my inspiration in design.
As you work with the handbag line, there are dozens of things going on in the other departments of STS. What role do you play in managing this system, and how do you balance this work with the time spent on your handbag line?
First and foremost, I am surrounded by a great team of people that make STS Ranchwear possible. This is a family business, whether blood or not, we are a family.
Designing the handbag line is only a portion of my responsibility with STS. We all have a very active role in designing the outerwear, tees and caps, and marketing. As in any upstart business, we are a team and work to help fill in the gaps wherever needed.
And above all else, you have 3 children and a ranch to take care of! How do you manage?
When we started having kids, I started praying for a career that would allow me to make my children a priority. My oldest, Stone traveled 23 states in his first year of life going to rodeos. STS Ranchwear has been that answer to prayer. God prepared us for this part of our lives before we even knew he was doing it. This digital age has allows me to work from my home office. I am able to adjust my hours for my children's activities and the needs of Stran at the ranch. It is a lot to manage, but we wouldn't have it any other way.
Of all the things you do, what are you most proud of? What makes you love what you do, and how do you want to share that with your customers?
I am so proud of this brand and the relationships that have grown from this venture. This is more than a handbag and clothing line to us. It is our life translated through our brand. That truly makes us love every part of the process. Life is a process, and we love this process. I hope our customers feel like they are part of the process as well.
What exactly are the strong beliefs and values that you believe the western lifestyle was founded upon?
When I think of the morals and values that the western lifestyle were founded on, I think of the word integrity. Integrity is a word that encompasses so many qualities: honesty, uprightness, kindness, hardworking. When you believe your word is your honor and a handshake is as good as a signed contract. Those values are the foundation of our industry.
Timing from STS in the future. How do you see the line evolving along with the image of the company? What is next for STS Ranchwear, in general?
We are so excited about the future of STS Ranchwear. The older generation cowboy/cowgirl lived in western attire 24/7. The modern cowboy or cowgirl dresses for every occasion. Today, the line is evolving to fit those needs of our customer. The modern day cowboy or cowgirl leads a very diverse life and has needs to fulfill that. Whether you are at the ranch, a rodeo, or a football game, we hope to have something for you in that occasion.